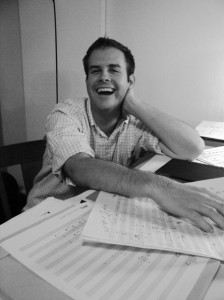 Andrew Ardizzoia (b. 1979) is a native of the San Francisco Bay Area, where he began his studies in music at an early age.  His catalog of  orchestral, band, choral, chamber, and solo vocal works have been performed on four continents by a wide variety of soloists and ensembles.  His music, described as "exuberant, rhythmic, and great fun" has earned numerous awards and commissions including the Presser Foundation Award, a Zoni nomination (Arizona's top theatre award), as well as grants from Arizona State University, the University of Hartford, and the Alvin Edgar Fund at Iowa State University.  In 2012 he received the Diemente award from the Hartt School at the University of Hartford.
Andrew's works have been performed at Arizona State University, The Ohio State University, Iowa State University, the University of Oregon, summer programs at both Idyllwild and Interlochen, and at many other colleges, festivals, and museums.  Recitals dedicated to his works have taken place in California and Arizona, and his music has been part of art installations, dance programs, and theatrical productions around the Pacific Rim.
Other recent performances have included the premiere of Andrew's Symphony for Wind Ensemble, performed by the Hartt Wind Ensemble under Prof. Glen Adsit, as well his Etudes and Fugues for Solo Marimba and Stonewall Magnificats for eight percussionists.  Recent solo and chamber performances include the premiere of Andrew's Ritmos Colorados for percussion ensemble, and repeat performances of his Sonata Conciso for trombone and piano.
Andrew's works have been heard at major international conferences such as the World Saxophone Congress (Bangkok), the North American Saxophone Alliance (Athens, Georgia), the International Horn Society (Brisbane and Los Angeles) and at the International Summer Arts Institute (Rome). During the summer of 2015, Andrew served as composer in residence at the Heartland Marimba Festival and Academy.  Recent works may be heard on recordings released by the International Arts Educators Forum and the Percussion Ensemble at Fort Lewis College.
Upcoming projects include a new work for oboe and string trio for oboist Josh Hall, for Italian clarinetist Arianna Tieghi, and Quintetto Pentarmonico.
Andrew earned the D.M.A in composition with a cognate in music theory from the Hartt School of the University of Hartford.  He also holds the M.M. in composition from Arizona State University, and the B.M. in composition from the Conservatory of Music at the University of the Pacific.  His primary teachers have included Stephen Michael Gryc, Robert Carl, Rodney Rogers, James DeMars, Robert Coburn, and Francois Rose.  He has participated in masterclasses with composers Christopher Theofanidis, Jennifer Higdon, Michael Torke, and Jonathan Newman, as well as with conductor Karla Lemon at the Scotia Festival of Music in Halifax.  He has also studied conducting with Henrik Jul Hansen and Eric Hammer.  Andrew has led clinics and performances of his music with ensembles of all ages.
Andrew was recently appointed to the position of full-time instructor of music at Naugatuck Valley Community College in Waterbury, CT where he teaches courses in theory, composition, and history, in addition to leading the concert band and choir.  He has previously taught at the Hartt School, Arizona State University, and Paradise Valley Community College in Phoenix.   He is a member of BMI, the College Music Society, and Pi Kappa Lambda.
Andrew currently lives in Hartford with his partner Rico, and a rescued Chihuahua/terrier mutt named Joey, who is a very good boy (mostly).